EMPOWERING CHOICE AND CREATING OPPORTUNITIES
2019 Annual Campaign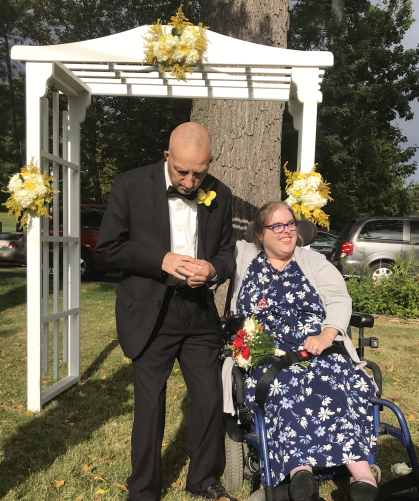 Norman and Donna met two years ago and fell in love while attending Living Resources DayCommunity Opportunities Program. Norman resides at a Living Resources residence and while Donna resides elsewhere, they committed to one another at a beautiful ceremony in September. Norman and Donna continue to attend our Day Opportunities Program where their love began and continues to grow.
At Living Resources, we have a fundamental belief that growth and happiness are unique for each individual. Therefore, our single goal is to make sure each person continues to grow to their fullest potential, to pursue happiness in the manner they determine, and live as Independently as possible.
We hope you will consider a generous gift that will allow us to provide the individuals we serve – like Norman and Donna – with a full life of purpose, comfort, and hope – regardless of disability or impairment.
BRIDGING THE GAP
Living Resources is dedicated to providing life enhancing services to individuals challenged by intellectual and developmental disabilities, as well as those who are brain injury survivors. Growth and happiness are unique for each person and at Living Resources, we offer a safe and nurturing environment that allows individuals to meet and exceed their personal goals.
Our more than 850 Super Hero staff members provide a wide range of services to more than 1,900 families and individuals helping them to reach new levels of independence. Each day is a success here at Living Resources and each one of our individuals' accomplishments are celebrated and make us proud to be a part of the Living Resources family.
Our services are individualized and offered in a variety of settings from 60+ residential housing arrangements, site-based services, day opportunities, arts, community volunteering, supported employment, after school programs, counseling services, home support to families, and services to persons with traumatic brain injuries.
Total Number of Families and Individuals Served
Hours of service are provided weekly
1.1 million hours provided annually
Employees providing for your loved ones
Years of providing care and services
How can Living Resources help you meet life's challenges?