Welcome to Self Direction!
Providing Excellence in Self Direction Services for Families across the Capital Region
THOUGHT LEADERSHIP:
Great things are happening here!
IDENTIFY YOUR FISCAL INTERMEDIARY (FI)
Family and Child Service, an affiliate of Living Resources, has a team of highly trained FI professionals who will work with you to understand your needs and connect you with the supports that best fit your goals.

IDENTIFY YOUR BROKER
Through our many years of experience in working within the disability community, you can rely on us to provide you with brokers who will meet and exceed your expectations.
ESTABLISH PERSON CENTERED, SELF DIRECTED PLAN
Person centered self-directed services is the key to our FI model. We focus exclusively on creating a unique and individualized plan of support. We take the time to listen and understand each of your goals and then design a circle of support for you that will lead to goal achievement.
HAVE ACCESS TO CONTINUOUS SUPPORT

Our advanced technology and easily accessible team members make getting continuous support simple and fast! Do you have a question or need support? We are here for you, no waiting!
CONNECT TO YOUR CARE MANAGER
Collaboration is a core value for us. We will work seamlessly with your care manager to ensure continuous communication, active participation in planning and service delivery, and coordination toward mutually agreed upon goals.
At the of our Self Direction Services is YOU!
By joining our Self Direction family, we ensure you remain connected with everything Self Direction through One Point of Entry.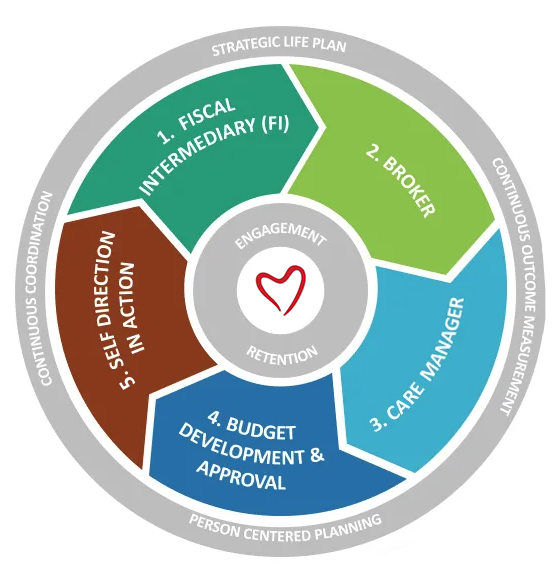 We Bring Value to YOUR Self Direction Services
Click below to learn more about our Services and Resources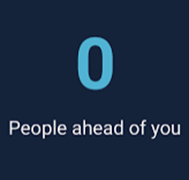 We can provide services for YOU immediately
Currently there is NO WAIT LIST. We have immediate openings and look forward to meeting with you today! We are here for you. Let's create a partnership and get moving through the Self Direction Process NOW!
Low Fringe Rates benefit YOU by offering more service opportunities
Lower Fringe Rates in Self Direction is important because the individual can use more of their available funding for increased services when the Fringe Rate is low. This is important in maximizing the impact of available funds.
Preferred Brokers, Care Managers, Providers
We have worked to develop important partnerships with the many parts of the Self Direction Circle of Support. This includes preferred brokers, care managers, and providers. We work together to collaborate and design best practices around Self Direction.
Expert leaders in Self Direction Services
Our leaders work collaboratively with regional providers to ensure a smooth delivery of supportive services.
Our leaders have active, working relationships with state liaisons and key community stakeholders including many OPWDD service providers. These relationships are important because they allow us to create robust life plans, be strong advocates, access services to address family needs quickly, and allow us to assist individuals in reaching their unique life goals.
Dynamic Community Collaborations Offer Value
As part of the disability community for many years, we have developed vital strategic partnerships with organizations, businesses, agencies, non-profits, and service providers. These partnerships will help ensure that you are provided with the very best support network.
Online, web-hosted solutions make working together easier and more efficient
Through our new eVero technology, we will be able to provide individuals and families an online technology that makes submitting documentation, communication, and navigating services even easier and more efficient.
Want to learn more? We'd love to hear from you. Here's how you can reach us …
John Breitenbach

Director of Community Living