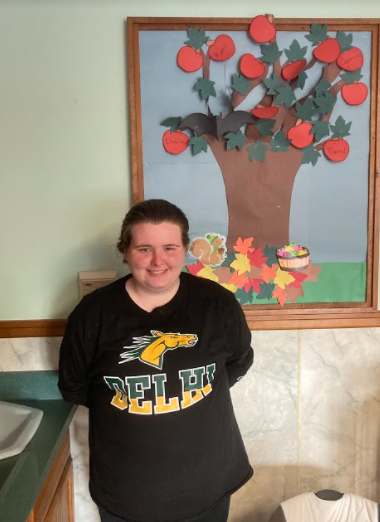 Living Resources College Experience Program (CEP) Student Bridget Mulligan began her internship with Tendercare Child Center in Guilderland this September and is loving her time working in the infant room! Bridget has been a big help in the infant room, preparing bottles, learning how to support children in developing balance and fine motor skills, and putting the infants down for naps. Together, the team brainstorms and executes festive art projects for the children's parents. She says, "I love it here, I like working with the babies. Everybody's nice and friendly."
Bridget is a natural with the babies! She made such a great impression with the staff at Tendercare that she was offered a position by the Director, Rose Farruggia. As part of the hiring process, Bridget has been learning more about early childhood development and safe practices in childcare through virtual training classes and finds them very interesting!
Rose shared that as an employer, she has had a great experience working with the Living Resources Employment team and job coach. When asked about Bridget, she said "She's a really great fit, and she has a lot of knowledge."
Pictured is Bridget in the infant room, which she helped decorate for the season with her mentor Edie.