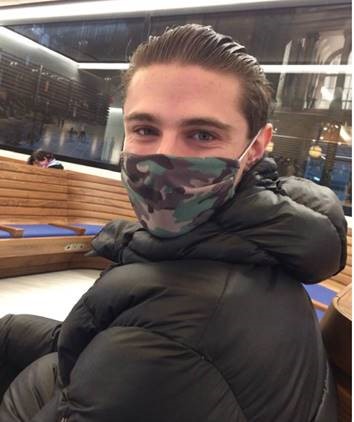 The College Experience recently welcomed 2019 graduate Reed Grontas back to the Transitions Program. Although his mother and the rest of the family were sad to see him leave his Long Island hometown after his extended Holiday vacation, they were able to squeeze in one last adventure on his way back home.
Reed and his mother took a walk through Manhattan's Herald Square and then toured the brand new Moynihan Train Hall within Penn Station which opened on New Year's Day.  The construction features a gigantic, 92 feet high ceiling covered in skylights above the main concourse. From there, he was off to Albany on his own.
While attending Living Resources' College Experience Program, Reed learned the skills needed to travel independently at the local level with our Community Navigation class. This sparked a bit of a wanderlust within Reed and he discovered there was a globetrotting adventurer within him. He has since been independently traveling long-distance between Saratoga and New York City and beyond. 
Reed is also a pioneer as one of the first College Experience students to extend his college career through our CareerNext Program at SUNY Schenectady College. 
We wish Reed a wonderful start to 2021, We know his future is bright!