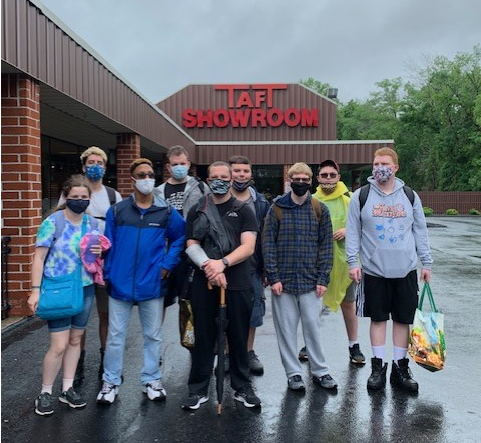 Moving out is a rite of passage for young adults, and not one to be taken lightly.
Our College Experience seniors are getting ready for this milestone, as always with the support of their instructors. They recently visited Taft Furniture on Central Ave. in Albany as part of Suzanne Bernier's Apartment Life Class. The class is designed to help CEP seniors understand the many layers of moving into their first apartment. Some examples of class discussions include finding an apartment, budgeting, understanding how to pay bills, how to read a lease, safety in the community, and furnishing your apartment.
The class spent an hour in Taft checking out the prices and selections of furniture for a bedroom, living room and dining room. Many of the students found items they liked and took pictures to show their parents as they will be moving into their first apartment in August when they join the Transitional Year program.
The College Experience is a residential non-credit certificate program hosted by The College of Saint Rose in partnership with Living Resources. The program is designed for students with developmental disabilities seeking to build community and transition to independence.