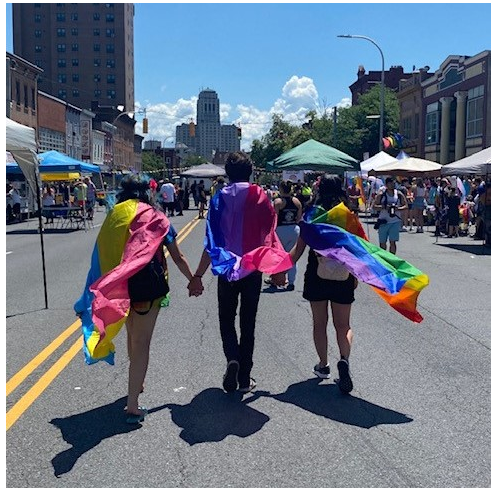 There is a lot of pride at College Experience!
Many students are taking an Introduction to LGBTQIA+ Studies class. Not everybody in the class identifies as being a part of this population, but they are certainly passionate allies who believe in supporting their peers and those around them.
Instructor Megan Taylor-DiCenzo shared that the students are learning about the history of the LGBTQIA+ movement, the meaning of each letter of the acronym, the flags associated with each of the letters, and all of the relevant terminology. They are exploring the science of being gay, famous (and not-so-famous) gay people throughout history, what is means to 'come out,' discrimination toward LGBTQ+ individuals in the U.S. and abroad, and important advancements in law.
A group of these students also attended the annual Capital Pride Block Party on Central Avenue in Albany on June 12th. The students enjoyed the upbeat vibe of the event, taking in music, food, games, vendors and even a drag show! The atmosphere of inclusivity and acceptance resonates with the students because at College Experience they are encouraged to embrace who they are and accept others as they are as well.