Christopher Curren is enjoying his college years – attending classes, working, and enjoying a full social life, but his educational journey was different from many of his peers. Christopher was diagnosed with autism when he was 18 months old after his parents noticed that he and his twin brother Daniel were progressing at different rates. He benefitted from early intervention and special education preschool before attending public school in Voorheesville. His mother Kathy said that he thrived in that "love bubble" where Chris was warmly regarded as the "mayor." His passion for sports was nourished by a community that welcomed him, not only as an integral part of the football team where he became both manager and chief motivator, but as a ball boy for the girls' varsity soccer team.
As Chris grew, it became apparent that his educational needs would be better served by the South Colonie High School's work-based learning program. He set off to the much bigger school environment where the combination of classroom learning and internships provided him with more opportunities for challenges and growth. Here, Christopher joined Best Buddies and discovered the joy of playing sports on the school's Unified team.
When Chris's twin brother was accepted into college, it seemed like their paths would truly diverge. While Daniel made plans to attend Springfield College for sports journalism and communications, Chris feared he would be left behind. He lamented, "I was getting too old to stay at Colonie." That's when his parents researched higher educational opportunities for Christopher and found the perfect fit. Living Resources' College Experience is a residential non-credit certificate program designed for students with developmental disabilities and hosted by The College of Saint Rose.
Now a College Experience senior, Chris enjoys learning about cooking, personal finance, and health and wellness. He did an internship at Empire Wine Warehouse where he assembled wine sleeves and boxes, among other activities. Always ready for something more challenging, he recently started working at McCarroll's Village Butcher in Delmar where he can be found in the kitchen doing food prep or enjoying the fruits of his labor by purchasing a delicious breakfast sandwich.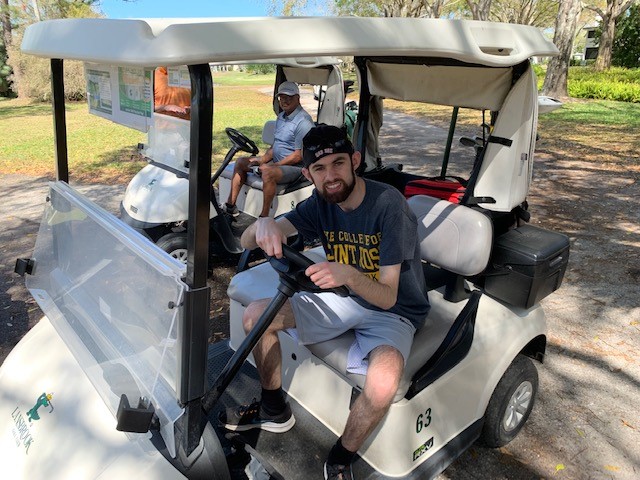 In his spare time, Chris is excited to partake in the many social events that take place on campus and in the surrounding area. He recently attended Albany's annual St. Patrick's Day Parade with fellow College Experience students and had a blast!
Chris will graduate from the College Experience, attending the College of Saint Rose graduation ceremony this May. As a true "lifelong learner," he plans to return for a post graduate year at College Experience this fall. As his mother said, "The kid's a rock star. We just follow his lead!"