The sense of pride and self-accomplishment was so strong, you could feel the excitement before the door was opened. Maybe all the obstacles they overcame made the victory sweeter. If you ask most college students about their scholastic journey, they will tell you about their accomplishments, struggles, high points, and disappointments, but for most of them, graduating was always a foregone conclusion. For many students with intellectual disabilities, however, participating in a college program is frequently thought to be improbable, and walking across a stage wearing a cap and gown in a full college graduation ceremony is considered unrealistic. That is where The College Experience comes in.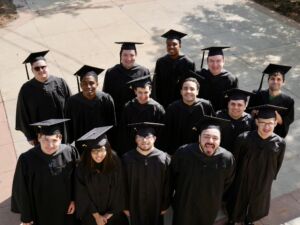 This is where The College Experience comes in. The two-year certificate program developed by Living Resources and hosted by The College of Saint Rose provides young adults with disabilities the support, skills, confidence, internships, and work experiences they need to gain independence and live engaged, productive, and happy lives.
The graduates of The College Experience are proud of the skills they have gained. One mentioned that they learned about nutrition and can now cook for herself. Another said they learned to independently travel around the Capital Region through the Capital District Transportation Authority bus system. A third has gained financial literacy and can now manage his bills and rent. They all talked about their internships and the skills they gained, which they plan to use to secure meaningful jobs.
More importantly, The College Experience students have changed their outlook on life. They have learned to believe in themselves and to never give up. One graduate said it best, "What am I proudest of? Everything!" Focusing on the following day's graduation ceremony, a senior beamed saying, "I've been in school since I was 4 years old. It was hard in the beginning, but this dream is coming true!" Another delighted, "My family is here and they are so proud!" Looking further into the future, some seniors have their sights on future employment and/or post-graduate work where they will further hone their skills.
The program staff also shared in the excitement of the moment, expressing pride in their student's successes. Angela, a College Experience teacher said that watching the students set and achieve their goals and become more independent every day is an amazing experience. A graduate of The College of Saint Rose, she learned about the program through one of her friends, someone she has known since their first day of school. She said, "It's awesome, we were in kindergarten through twelfth grade together, and thanks to the program, we got to be in college together." She was so impressed that her friend and his College Experience class were included as full members of the Saint Rose community that she decided to work to bring that same experience to others.
We congratulate the graduates on this milestone and wish them all the best for the future. In the words of Dr. Seuss, "You're off to Great Places! Today is your day! Your mountain is waiting, So … get on your way!"