"The first step towards getting somewhere is to decide you're not going to stay where you are." ~John Pierpont "J.P." Morgan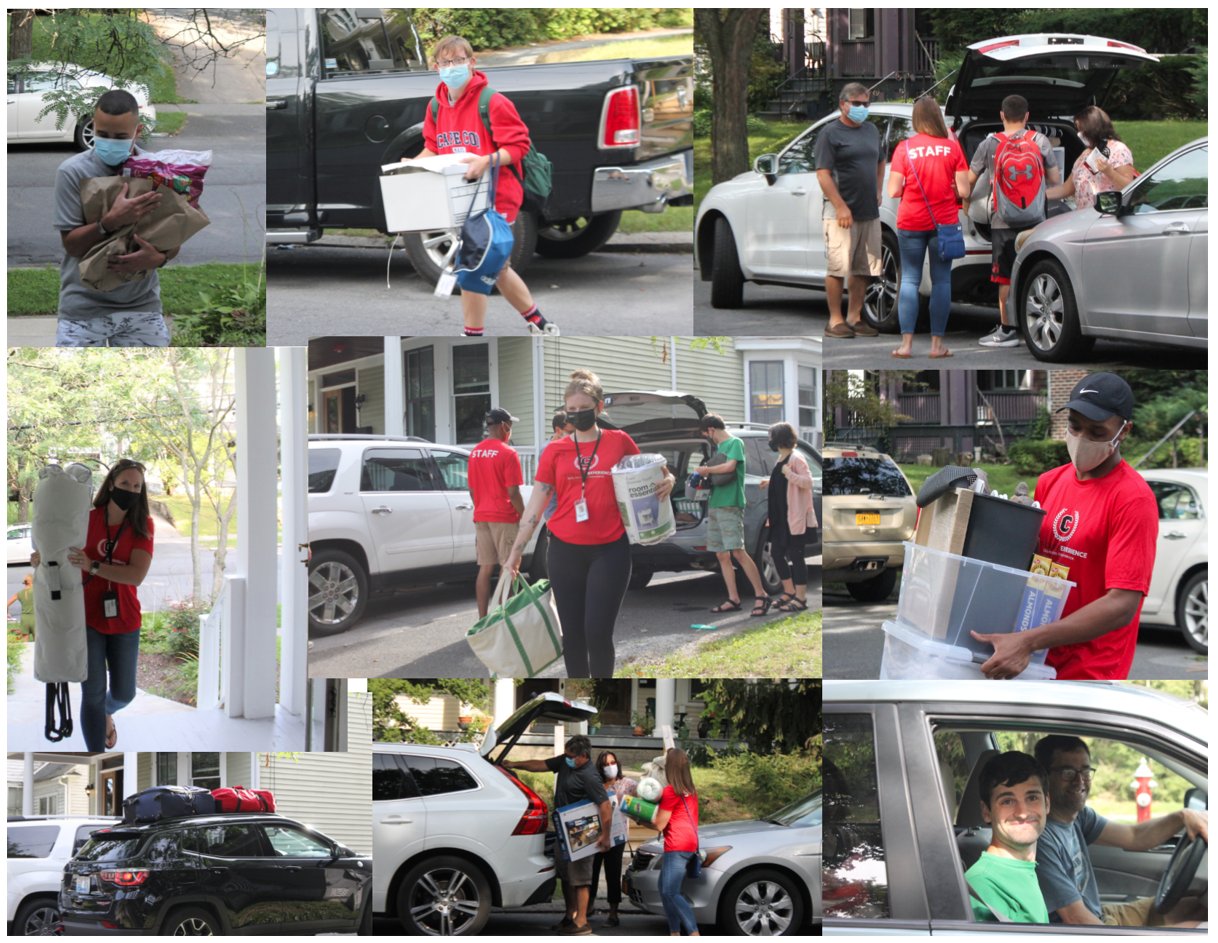 Early on a Monday morning, a car arrived with precious cargo – a student, his parents and all the items he needed to start his first semester at Living Resources' College Experience at The College of Saint Rose. They were met by an enthusiastic team of staff in red shirts who welcomed, directed and helped carry cherished belongings into the student's dorm. As this family began the process of unpacking and settling in, the next car pulled in, it's passengers received with the same vigor and they began climbing steps into the student's new home.
Move- in Day was filled with energy and excitement for families and staff alike. Cars arrived like raindrops in a summer storm, picking up with increasing frequency and intensity until the whole block was a parade of luggage, comforters, stuffed animals, and supplies. The thrill of this day, of a combination of motion and emotion was by no means a certainty. Because of their learning disability, many of our students are not eligible to attend typical college settings. But The College Experience is no typical program. It is a residential, non-credit certificate program hosted by The College of Saint Rose in partnership with Living Resources. It is designed for students with intellectual and developmental disabilities seeking to build community and transition to independence.
Here, students will gain the knowledge necessary to live their best, most independent life while having full access to the College of Saint Rose campus and all its activities and clubs. And the secret is getting out. Almost 20 freshman students came from near and far- some from the Capital Region, others from Long Island and New York City, another from Rochester and one family even came from Michigan.
If this diverse group of students were joined today by the shared experience of being a young adult with an intellectual disability, so were their parents, many of whom communicated that they were more anxious for this day than their child. One mother shared that her son never had a doubt that he would be coming to the College Experience, and had visualized this moment for many years. At the time, nodded and responded noncommittedly "We'll see …" but stated with pride that her son has always been confident and determined to make a path for himself.
Like Move- In Day in colleges across the country, parents will struggle with letting go while students brace for their first night as a Freshman. These next few weeks, the students will undergo a thorough orientation schedule covering the many burning questions students communicated as the moved in, including, "Where is the College from my dorm?" and "Is there a rule about how late we can stay up?"
We wish them well on their road of discovery toward increased independence.
"And now let us welcome the new year, full of things that never were." —Rainer Maria Rilke