Joe Morelli, Associate Executive Director of Operations shares his thoughts on our yearly Day Services Awards Celebration, "most of us look forward to special events such as birthdays, anniversaries, vacations. One such highly anticipated event is Living Resources' Day Opportunities Awards. After a nearly three-year hiatus, the date of the event finally arrived this month. The excitement, the achievement, the celebration of accomplishment, and the love that flows from all those gathered is felt on a deep level. The community we have created and the ongoing commitment we make to be in service to one another are the reasons I work for Living Resources and is what has kept me here for 29 years. "
The uplifting mood for the ceremony was set by Aila Moses who kicked off the event with a rousing version of Journey's "Don't Stop Believin" and everyone joined along. This was followed by the DCOP All-Star Chorus singing the song Bones. Once the house was rocking, we moved to the main event of presenting awards.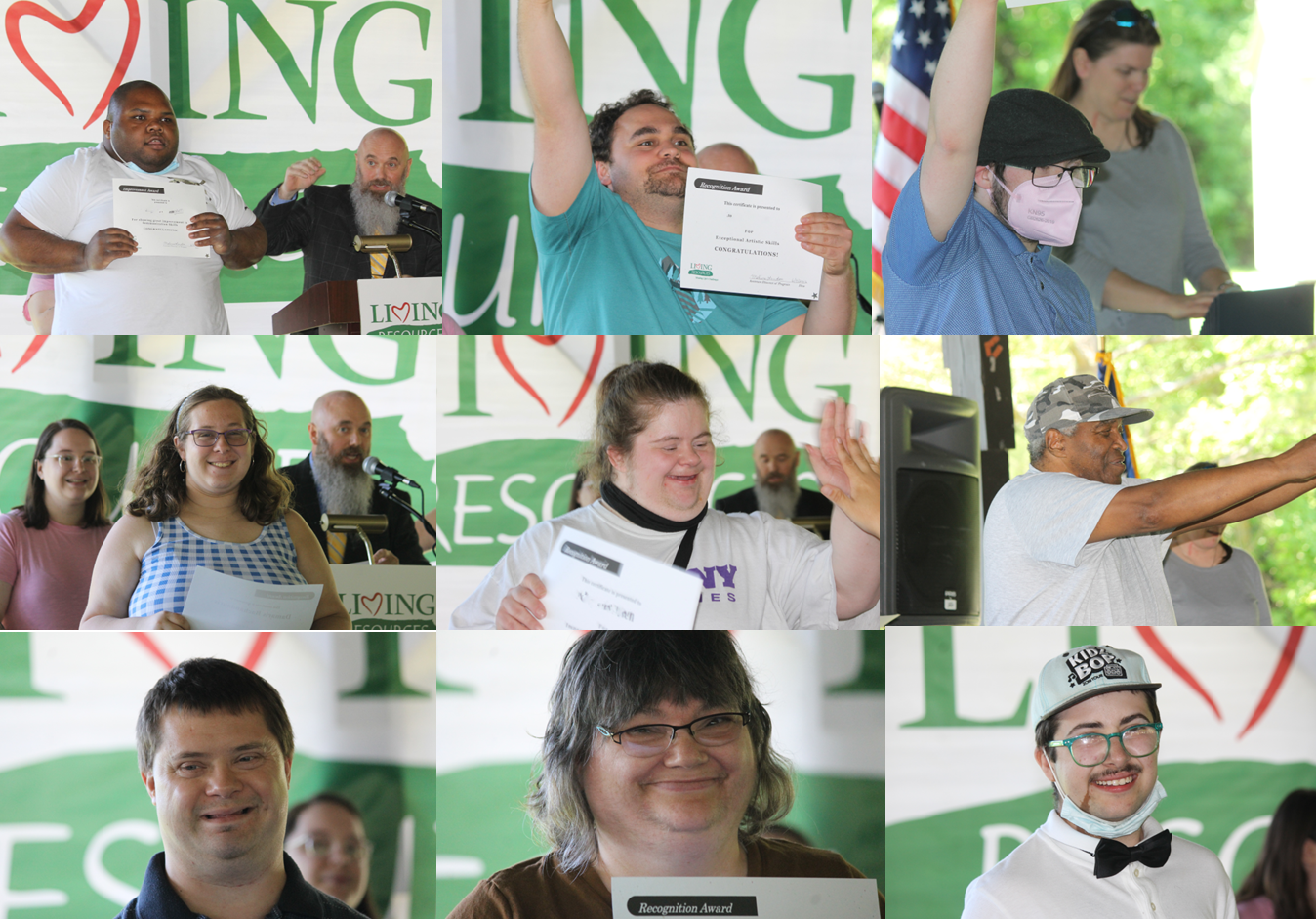 Participants celebrated achievements and improvements in important skills such as communication, art, community involvement, and helpfulness. Some received special kudos for having been successfully employed for over ten years. Living Resources Day Program staff who have been with us for greater than 20 years were honored and one staff and one individual from each county were called out to receive the coveted Starlight Awards for outstanding merit.
Jill McLean Recreation Director of the Marbletown Community Center accepted the Mayor Frank Leak Community Enrichment Award for the center's commitment to supporting our individuals. Staff member Sam Thalluri was bestowed with the prestigious Amanda Rivenburg Phoenix Award for being a rising star here at Living Resources.
Joe summarized his thoughts on the event stating: "in the excitement and accolades of the awards ceremony, it is easy to forget that this day was a long time in the making. Today's successes were not possible without tremendous effort, hard work, and sometimes failures and tears. However, there is great joy and a personal sense of accomplishment when we see the results of our efforts. It is deeply apparent that the finest form of human nature is in the expression of compassion for one another. This core ingredient is the foundation of every success story here at Living Resources."
A very special congratulations to each and every one of the awardees and the staff members that support them in reaching their goals and achievements.