A delightful aroma and the sounds of excited voices alerted us to their presence- the Schenectady Day Community Opportunity Program (DCOP) cooking group had arrived at Living Resources Main Office. While they usually enjoy the warm hospitality of the kitchen at Schenectady's First United Methodist Church, the church has been unavailable for the past few weeks so the group was flexible and changed their location.
Our Schenectady DCOP foodies always look forward to cooking day, enjoying every step in the process. Since there are four participants in this group, each member chooses one recipe a month for the group prepare and enjoy. The week before they make a given recipe, they plan a shopping list together. On cooking day, the group makes a trip to the supermarket. They are prepared for important decision making since they have to stay within a $25 budget. If they plan well enough and make thrifty choices, they can pick out ingredients for a special treat, such as last week's cookie sandwiches.
While locating their needed ingredients, they also explore the produce aisle on a mission of finding something new to try. Last week they put water chestnuts in their stir fry and everyone agreed they were "crunchy and delectable!"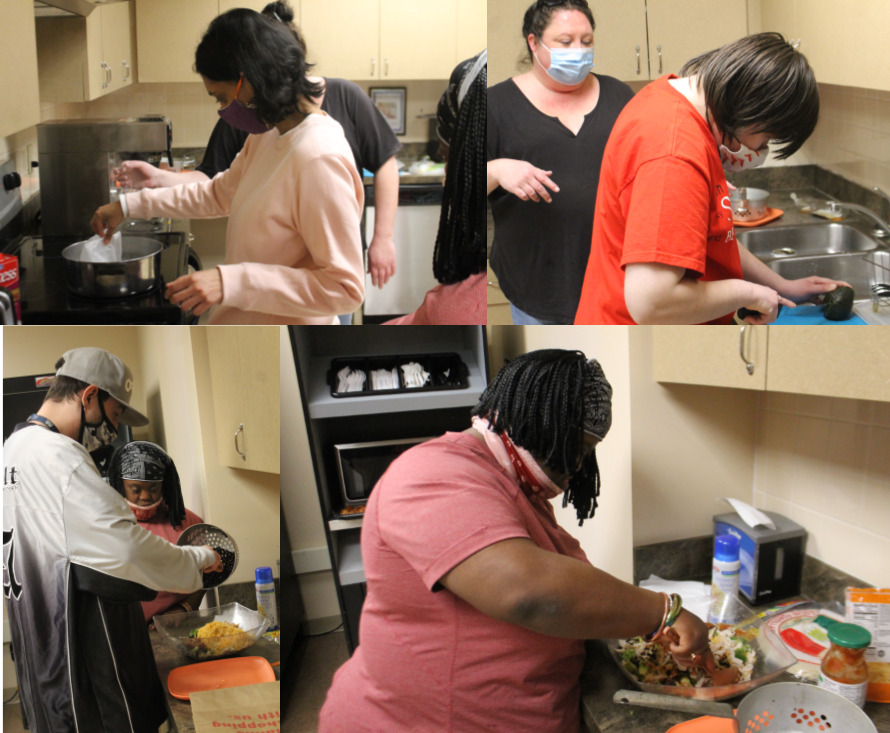 Once in the kitchen, they excitedly set up their supplies and begin working on their chosen tasks. Everyone plays a critical part in the preparation of the meal. When making Robbie's chosen entree of quesadillas, Shawayna pulled the meat off the rotisserie chicken while Vinique cut the vegetables. Robbie added the cheese and beans and Nadine cooked the rice.
While working, the group shared some of the safety rules they have learned. Robbie instructed, "never leave a knife in a sink. If someone else goes into the sink, they could cut themselves." Vinique demonstrated how to walk while carrying a knife, saying, "Walk with it down because if you walk with it up, somebody could whack right into you."
The best part of the day is in the reveal and today this group had a lot on their plate, in the best of possible ways. Everyone was thrilled to pause for photos with their culinary masterpieces. The meal must have hit the spot. Robbie nodded and proclaimed his quesadilla as "good."
The participants enjoy their session, soup to nuts. While Vinique enjoys finding out about new healthy recipes and Nadine said "I just like to cook," the joy of the group is not just about the food. Vinique said the magic of the group is in its leader who is as sweet as honey. "We have our beautiful Kristen! When I was going through hard times with COVID, she was there to uplift and make everything better. She puts a smile on everybody's face." Kristen paused for a moment to absorb the heart felt words. She then shared that she enjoys drop off time and habit of reviewing the day's activities with her group. "They tell me, 'we had a really great day!' and I say 'I KNOW! We really DID have a great day!'" Nadine added, "Because we're fun!"
We wish them continued culinary adventures throughout the year.