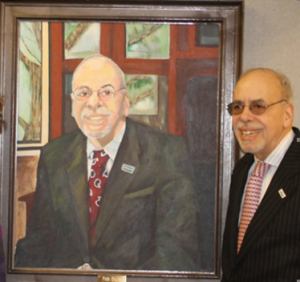 Our CEO, Fred Erlich has always believed that all individuals need to have a purpose and a voice. In creating the Carriage House Arts Center, he gave many individuals new identities as artists, with new voices in watercolor, acrylic, clay, and a host of other mediums. His mission led his Leadership Team to commission a portrait by these very same artists.
It is right and very much in character, that these artists capture the essence of our leader and our friend. The Carriage House artists, lead by instructor Bianca Dilella created this wonderful masterpiece depicting him looking forward always to a brighter future with curiosity and keen intellect in his kind eyes. We see compassion but also a fiery determination.
The portrait was presented and hung during our building naming ceremony and is proudly displayed in our lobby. Please stop by!