Our partners make dreams a reality!
Since the onset of the COVID-19 pandemic, those "Everyday Superheroes" whose work benefits the needs of the community have been more fully recognized. While the role of Essential Workers is enjoying a newfound appreciation, it is something that Price Chopper/Market 32 and Living Resources have perfected for over 30 years. Together, we have collaborated to provide employment opportunities for individuals we support. Currently, Price Chopper/Market 32 employs 12 members of our supportive employment family.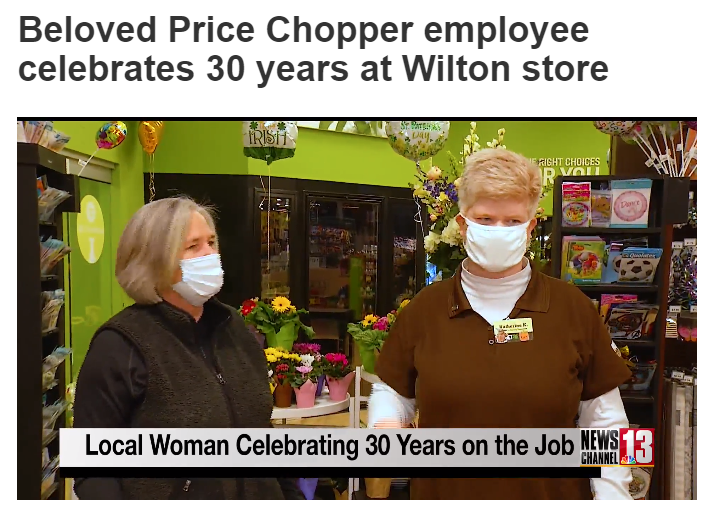 Katie Kelly, who receives support from Living Resources, certainly had a reason to celebrate this year. She marked her 30-year anniversary as a Price Chopper employee. Katie, who works three days a week bagging groceries, and helping with carry-outs and re-shops, has been hailed as a Super Hero Superstar who radiates the joy that comes from a job well done, regardless of the season.
Partners like Price Chopper/Market 32 and many others help us meet our mission of supporting and empowering individuals with disabilities or other life challenging conditions to live with dignity, independence, and happiness.
It is our friends like YOU who embrace our mission, become our partners, and guarantee that happiness is ever present not only for Katie but for all that are striving to reach their goals. YOUR contribution makes that difference! YOU enhance lives and make dreams possible.  
Thank YOU for your compassion, support, and love. YOUR gift will be matched through the generosity of the Neil & Jane Golub Foundation. 
Thank you to our Matching Gift Sponsor
"Life-long commitments are something that Jane and I shared. Living Resources makes life-long commitments to all whom they support and we deeply appreciate how they and their talented staff provide support to individuals with disabilities, helping them to lead their best lives. This is why I have issued this giving challenge and will match all donation responses, up to $2,500. I hope this commitment will encourage you to support Living Resources and all they support to live a life of dignity, independence, and happiness.
Together, let's continue to positively impact lives." – Neil Golub