Sometimes a kind gesture has unintended consequences. Both Dubois and Jennifer have lived in apartments of their own assisted by staff in our Supportive Living Program for decades. They each have their own routines and particular way of doing things and have reveled in their independence.
At the beginning of the pandemic, a situation made it necessary for Jennifer to leave her apartment building. But finding a new apartment was proving difficult. Dubois hated to see his good friend in such a difficult position, so he made the generous offer to let Jennifer move in with him until she could locate a new place. How long could it be, after all?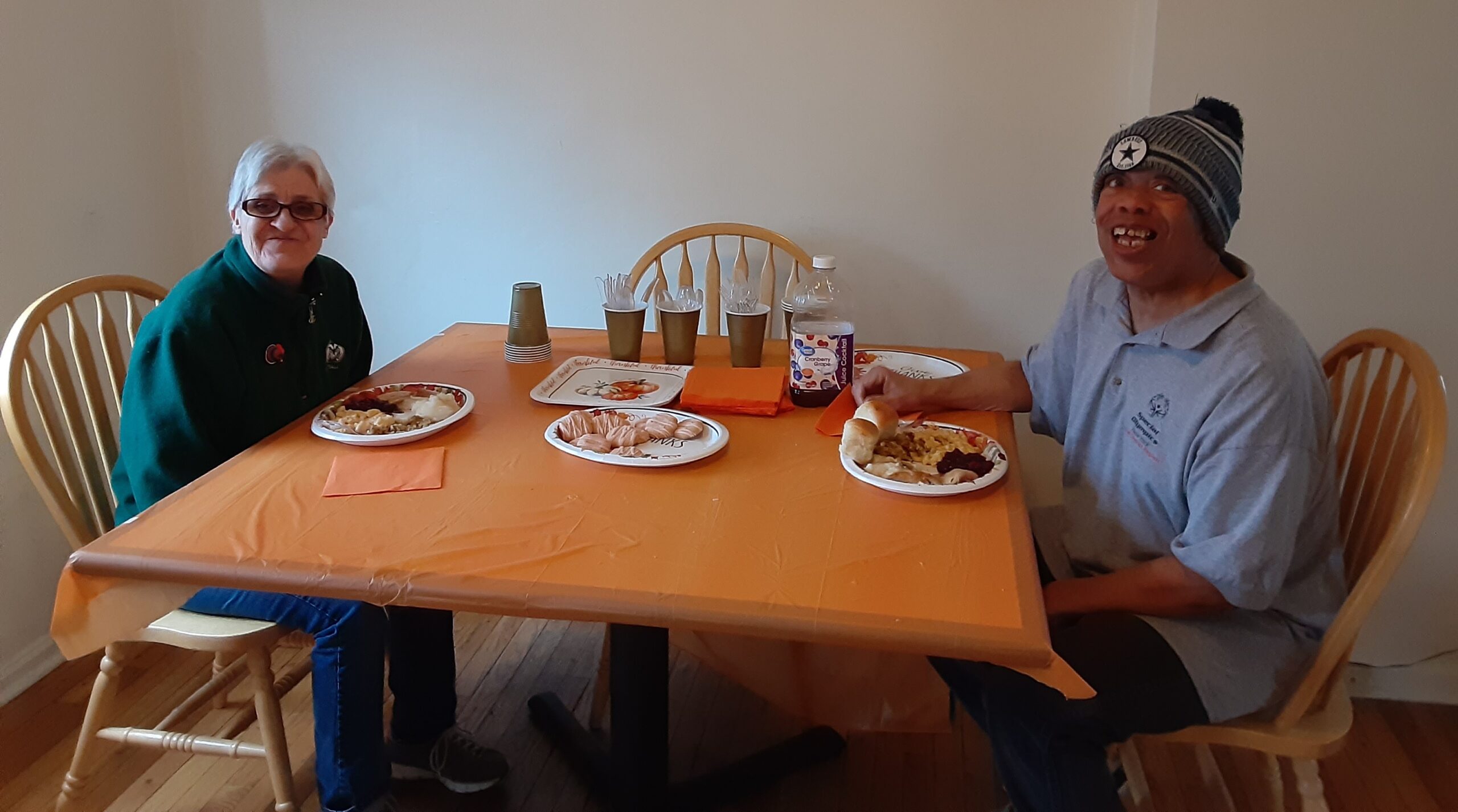 But as the lockdown dragged on and the housing market escalated, they realized this might take some time. With the guidance of their Living Resources Supportive Living Program staff Daryllyn and Behavioral Health Counselors Jordan and Carly, they successfully navigated the inevitable disagreements, making the best of the situation, and keeping their friendship intact. In October of this year, after a year and half of twists and turns, Jennifer finally secured a new apartment and they each returned to living independently.
After all they have been through, given the choice of celebrating Thanksgiving any way they wanted, they elected to spend it together.
At Dubois' apartment, they made a royal breakfast of turkey bacon and eggs with homemade cinnamon buns which they ate while watching the Thanksgiving day parade. They then took turns helping their staff person Daryllyn make a traditional Thanksgiving dinner. They even dropped off a plate for their friend and fellow SLP participant Christina before returning to Dubois' place to share their meal.
During dinner, they reflected on their experiences these past 21 months. They both shared that they are thankful for each other and their close friendship through the pandemic. They also agreed that they are happy to be back in their own apartments to resume their independent lives.