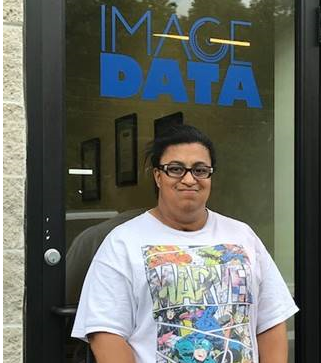 Ashley Lawyer has been part of the Living Resources family for over seven years, receiving services from our Supportive Employment program. Her undeniable work ethic and hardworking frame of mind makes Ashley a valued employee at not one but two jobs!
During the Covid-19 Pandemic, Ashley began the year working at Image Data as a document prep specialist Monday through Thursday and on Friday she worked at Hannaford Supermarket. Shortly after the Pandemic began, Ashley was furloughed from Image Data for several weeks, but rather than sit and wait for her office to reopen, she increased her hours at Hannaford temporarily, and worked 5-6 days a week. When asked if she would rather have waited, she said "I would rather be busy and not have to collect unemployment". Ashley's supervisors have both remarked that she is "hardworking and dedicated" and Candy, her manager at Hannaford, said "I wish everyone was more like Ashley!"
Ashley's work ethic does not end at the close of her shift. After work, she frequently helps her sister by babysitting her nephew. Also, the only time Ashley called out from work was in order to assist her sick grandmother.
Although her work atmosphere at both locations has changed for the foreseeable future, Ashley has adapted to the COVID- 19 safety precautions well. Now back at Image data, her job description is much the same. She preps documents for digital files for clients, but her work area is now enclosed with Plexiglass and she must wear a mask at all times when working. She also has to take her shift breaks outside and has to pack her own food and drinks for those breaks since the water cooler is not operating. At Hannaford, Ashley wears a vest suggesting that customers socially distance, and she has to now use plastic bags, and if a customer brings their own reusable bags, they must pack their own groceries to cut down on the spread of Covid-19.
Ashley's job coach Lori Ira said that Ashley's initiative in advocating for herself and her commitment to working hard and always going above and beyond makes her an ideal employee and effective partner in job coaching.