A dream to provide quality art instruction to artists with disabilities came into reality when our first arts center opened its doors in 1997.
Students in Living Resources' Arts Program receive art instruction from an exceptionally talented staff of highly trained artists. We work with individuals with a variety of disabilities including, but not limited to, intellectual disability, cerebral palsy, autism, hearing impairments, schizophrenia, and acquired brain injury.
The program provides a stimulating and imaginative setting, with classes taking place throughout the week.
We provide instruction out of four sites:
2176 Guilderland Ave, Schenectady

11 Round Lake Rd, Ballston Lake
In 2017, we opened Living Resources 70 Beekman Street Gallery in Saratoga. In addition to exhibiting the work of Living Resources students and community artists, the gallery operates as an inclusive community workspace where artists of all abilities can learn together.
Arts explored through the Arts Program include: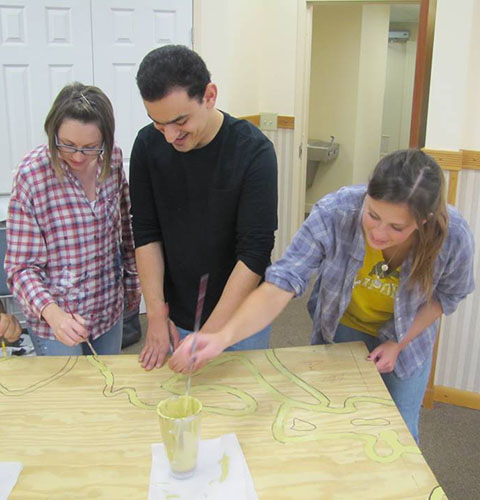 The Arts Program has been highly recognized not only in the Capital District, but nationally as well. Our artists continue to win awards at numerous art shows including the statewide juried art show Voice!, The Autism Society Gala, The NYSACRA Conference, Sunny Viewpoint Gallery, and BUILT.
One of the greatest advantages for artists enrolled in our art center is our vast connections throughout the local art community. Our artists' work has been displayed in local businesses and galleries such as The Albany County Convention and Visitor Center, State office buildings, Thatcher Park Nature Center, The Opalka Gallery at Saint Rose, Fulton Street Gallery in Troy, Case Gallery at Skidmore College, Saratoga Arts Council Building, Hilton Garden Inn at Troy, and many more.
The work of Living Resources' artists is on display at Living Resources' 70 Beekman Street Gallery located in Saratoga and the Miller Sanders Gallery located in the Living Resources Corporate Headquarters.
The Art of Independence fundraiser is a cocktail reception that features the amazing talents of our artists and also, highlights the road to independence that many of them travel through education and employment. This wonderful event includes food, beverages, fun, raffles, and provides guests with a better understanding of the support we offer and how that makes a difference in the lives of those we serve. Check our events calendar for more information about this years' AOI event.
Want to learn more? We'd love to hear from you. Here's how you can reach us …
Sergio Camacho

Assistant Director / QIDP